IGetMail - Downloaded Email Panel
What does the Downloaded Email Panel show?
The Downloaded Email Panel allows administrators to view the status of downloaded email and provides options to Redeliver, Modify or Remove email messages. View downloaded email for the current day or a few days in the past. Each line item in the Downloaded Email panel represents one email message that IGetMail has downloaded from a remote POP3 to your local Exchange Server.
What actions can I perform on Downloaded Email?
From the Downloaded Email panel, you can redeliver mail, forward mail, delete mail and look at IGetMail's downloading activities by day. To activate the features available on the Downloaded Email panel, you must first highlight the message or group of messages that you would like to take an action on. Please note that IGetMail supports the following selection methods: To select one message, click on the individual message. To select a range of messages, click on the first message and shift-click on the last message. To select multiple messages that are not together, use ctrl-click on each message to include in the operation.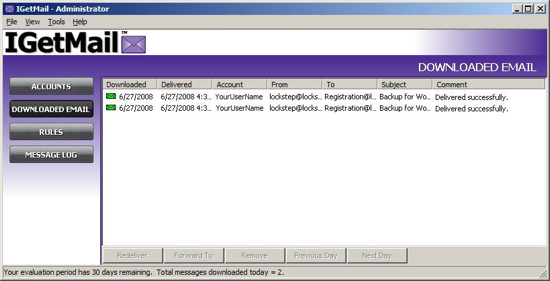 Color-coded envelope icons indicate the status of each message. Green (successfully delivered), white (in the delivery queue), yellow (queued for retry) and red (unsuccessful) icons allow administrators to stay on top of email delivery status.
Use the Redeliver button to redeliver the existing message(s) to your local Exchange Server again. The Redeliver feature may come in handy if you modify your local server settings or rules and need to redeliver a message or group of messages using new settings. You can also Redeliver a message to an end user who accidentally deletes a message and comes to you asking for a copy.
Use the Forward To button to forward an existing, downloaded email message to a different recipient than the original recipient.
Use the Remove button when you want to delete specific messages from IGetMail's Downloaded Email queue. Please note that IGetMail will automatically delete messages based on the retention rules you specify in the Tools>Preferences>Retention dialog.
Use the Previous Day/Next Day buttons to view the downloaded email for a different day.