What's New in IGetMail Version 3.0
New User Interface – In the past, IGetMail had a wizard based User Interface. Version 3.0 now has a full user interface allowing you to see the tasks that IGetMail is performing as it pulls your email messages.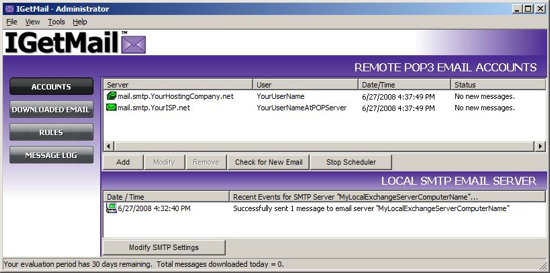 SSL Support – IGetMail now supports SSL access to both POP3 and SMTP servers. SSL support allows IGetMail to pull email from Gmail accounts.
Leave Email at the POP3 Server – You can now instruct IGetMail to leave email at your POP3 servers. Note that some POP3 servers do not support this feature, so it is dependent on the POP3 email server. Yahoo and Exchange fully support this feature. If you activate this feature with a Gmail account, Gmail keeps the email forever so you have to use a browser to delete the email periodically.
SMTP Authentication – If your email server requires authenticated login, IGetMail can now log in to deliver the email.
Concurrent Email Download – IGetMail can pull email from multiple email accounts at the same time. If one account has a large message, it will not stop the rest of your accounts from receiving their email.
Rules – You can now specify simple rules for IGetMail to use to process your messages. Rules are used to correct for extra information that ISP may insert in your email that cause non-delivery-reports from being generated. You can also exclude addresses, do not deliver messages, forward messages, etc. The rules allow you to correct for routine problems that need to be corrected, the rules feature is not intended to replace an anti-spam nor anti-virus solution.
Stored Email – IGetMail now keeps a copy of the recently downloaded email messages. This gives you the opportunity to redeliver messages if needed. If you make a change in your configuration information, you can tell IGetMail to redeliver the messages using the corrected or changed configuration. This is very helpful when you initially setup IGetMail or your email server so you do not lose any messages.
Schedules – The scheduler has been expanded, in the past you could only specify a weekend and week day schedule. Now you can have as many schedules as you want. You can define what days to run and what times.
Faster Downloading – The new scheduler can run up to every 20 seconds to check your email. We find some POP3 servers cannot respond this fast, so you may need to adjust this rate based on your network and servers.
Delivery Rates – You can set the number of messages that you want to deliver per connection to your local email server. Some servers assume they are under attack if they receive too many messages too fast, so this is a number that you may need to adjust to best fit your network.
Message Logs – You can see recent events that IGetMail has performed in the Message Logs.
Improved Log Management – With previous versions of IGetMail, the trace logs would grow rapidly and could consume a lot of free disk space. With Version 3.0, the logs are constrained to recording only the most recent 500K of data to cap their size.
Do you have more questions ? Please check out the FAQs.
If you are an IGetMail 2.x or 1.x user,
see how easy it is to upgrade
on the How to Upgrade page!